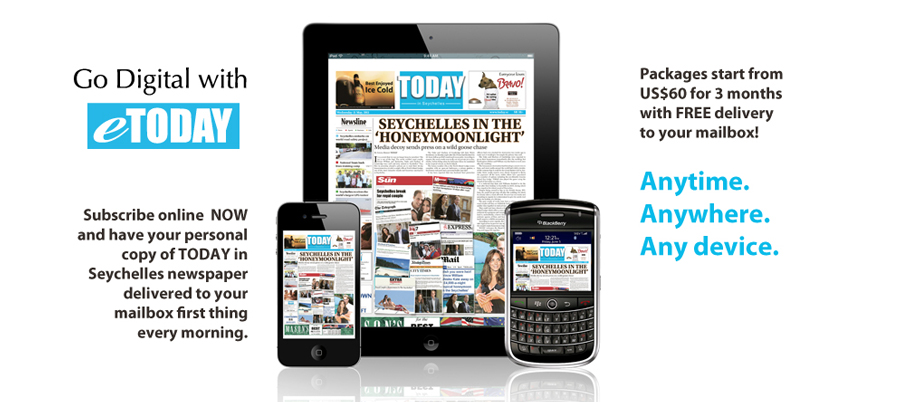 eTODAY is a digital reproduction and electronic version of the printed TODAY in Seychelles newspaper.  eTODAY is delivered to your mailbox complete with articles, photographs, advertisement and classifieds.   All you have to do is subscribe to eTODAY online and we shall ensure that your newspaper is sent to your email account at the moment the paper goes out to press for printing 6 days a week.   Then just open the PDF file attachment and navigate through the digital pages just as you would the normal print product.  Built-in features like the ability to zoom in and enlarge stories and photos and make the details easier to view.  The Adobe keyword search feature gives you the ability to research any topic, person or event in just a matter of seconds.  Furthermore, you can print the whole newspaper of just parts of it.  eTODAY is formatted to fit your tablet, laptop or any PC screen. 
Enjoy subscription as low as US$50 for 3 months with FREE delivery to your mailbox!
Choose a subscription package below and click the Subscribe Online button should you wish to pay with your credit card.  Note that our online subscription system offers you a choice between Paypal and 2Checkout payment gateways.  If you are based in Seychelles and would like to pay in Seychelles Rupees, click on the Subscribe Offline button to submit your Offline application form so that we can contact you to confirm your details and arrange to receive your payment.  Please note that your subscription will start from the moment we receive your payment.
Features

Your Benefits

Delivered to your mailbox every morning.

 • Be one of the first subscribers to receive your newspaper everyday!

Low subscription cost and no delivery fees

 

• 

A more affordable option for YOU!

Electronically produced and delivered

 • Exact replica of the printed newspaper

 • Environmentally friendly

 • 

No more piles of old papers

Zoom in and enlarge stories and photos

 • 

Comfortable to read and visually pleasing

 • Gives you ability to research any topic, or event instantly

Can be saved on your tablet or PC.

 • Easy to archive for future reading/reference.